Investigation of Causes
Arising from the Organization of the World
by Rabbi Jadaia

---
Bechinas Olam, known in English as Investigation of Causes, is a didactic poem written by one of the great Rishonim, Rabeinu Yedayah HaPenini Bedersi, after the expulsion of the Jews from France in 1306. It is philosophical in context and discusses the nature of the human soul. This edition by Rabbi Tobias Goodman, comes with the one and only English translation of this work as well as the original Hebrew text side-by-side.


On To 'INVESTIGATION OF CAUSES'


source:
http://www.seforimonline.org

---
---
To HiddenMysteries Internet Book Store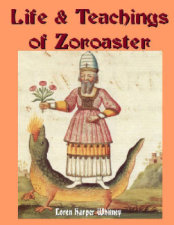 ---
Notice: TGS HiddenMysteries and/or the donor of this material may or may not agree with all the data or conclusions of this data. It is presented here 'as is' for your benefit and research. Material for these pages are sent from around the world. If by chance there is a copyrighted article posted which the author does not want read, email the webmaster and it will be removed. If proper credit for authorship is not noted please email the webmaster for corrections to be posted.